Thursday, 22 September 2011
Miss Bikini collection spring/summer 2012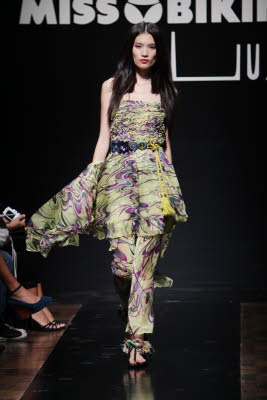 Miss Bikini brings his show to the library of the fashion these days in which the Lombard capital is interested by the presentations of the women's collections for next spring-summer 2012. Like many other brands also Miss Bikini a year ago was excluded from the official calendar of the Chamber of fashion, who preferred to make this choice, not shared by all. Not bad for the fashion brand that were not included in the official program. You can always take advantage of the turmoil fashion these days to propose his own fashion lines.

As the fashion brand Elena Mirò, which resulted in his spring-summer 2012 outside the official calendar of Milano Moda Donna, Miss Bikini has decided to propose his female line of the brand Miss Bikini Luxe and Miss Bikini Original for the hot season that will be in the days of Fashion Week in Milan.

In the days of Milano Moda Donna, from 21 to 27 September, the beach couture Alessandra and Francesca Piacentini makes a fine show of itself within the library Milan fashion: an ideal environment to host the 2012 spring-summer collection of two brands of fashion, women who dress with style and elegance, even when it comes to beachwear fashion leaders.

The creations of two brands of fashion will be exhibited in this long Milan fashion week, to be admired by the press but also by buyers, who will celebrate with fashion label his 20th birthday. A special occasion, waiting for the real celebrations for the first twenty years of fashion.
Posted by zebag at 10:20 AM EDT |
Post Comment
|
Permalink
Share This Post

View Latest Entries